Regular price
Sale price
€17,90 EUR
Unit price
per
Sale
Sold out
La Jupe Trapèze's ready-to-sew kit specially designed for beginners will allow you to easily and quickly create your own fashion piece.
It comes with step-by-step instructions and illustrations for easy measuring, as well as video explanations to help you through every step of the sewing process.
This pattern is suitable for different sizes thanks to its detailed size guide. It will allow you to sew your skirt with a professional finish in no time.
This pattern template is copyrighted and cannot be reused for commercial purposes.
Share
Necessary material

A piece of fabric 50cm high by 140cm wide (width)
A 20cm zipper
A polyester thread
A sewing machine

You can also opt for a ready-to-sew kit that includes all the materials needed to complete your sewing project.
Sizes

The sizes available for our Trapeze Skirt pattern range from 34 to 44.

This is one pattern for all sizes , which means that you can choose the size that suits you best by simply following the instructions to take your measurements.

Once you have determined your size, you can cut or trace the corresponding lines on your pattern.
Completion time

2 hours approx.

To stay zen throughout your creation, we advise you to cut out the pattern and the fabric on the first day, then move on to sewing the next day.
Why sew

The goal of Marilou Studio is to offer a solution to have pieces made in beautiful materials without exploiting anyone.

Sewing is an ecological and economical alternative that preserves people and the planet.

Finally, sewing allows you to take time for yourself.
Transparency

All our patterns are imagined, created and tested in our workshops in Paris.

The patterns and envelopes are printed at a small printer in the South of France in Montpellier to guarantee optimal quality and responsible production.

We believe in responsible consumption, and it is for this reason that we emphasize quality rather than quantity.
Return policy

We are confident in our product and offer a satisfaction guarantee for this pattern.

If you have any problems or questions, do not hesitate to contact us via contact@mariloustudio.com .

We are here to help you.
View full details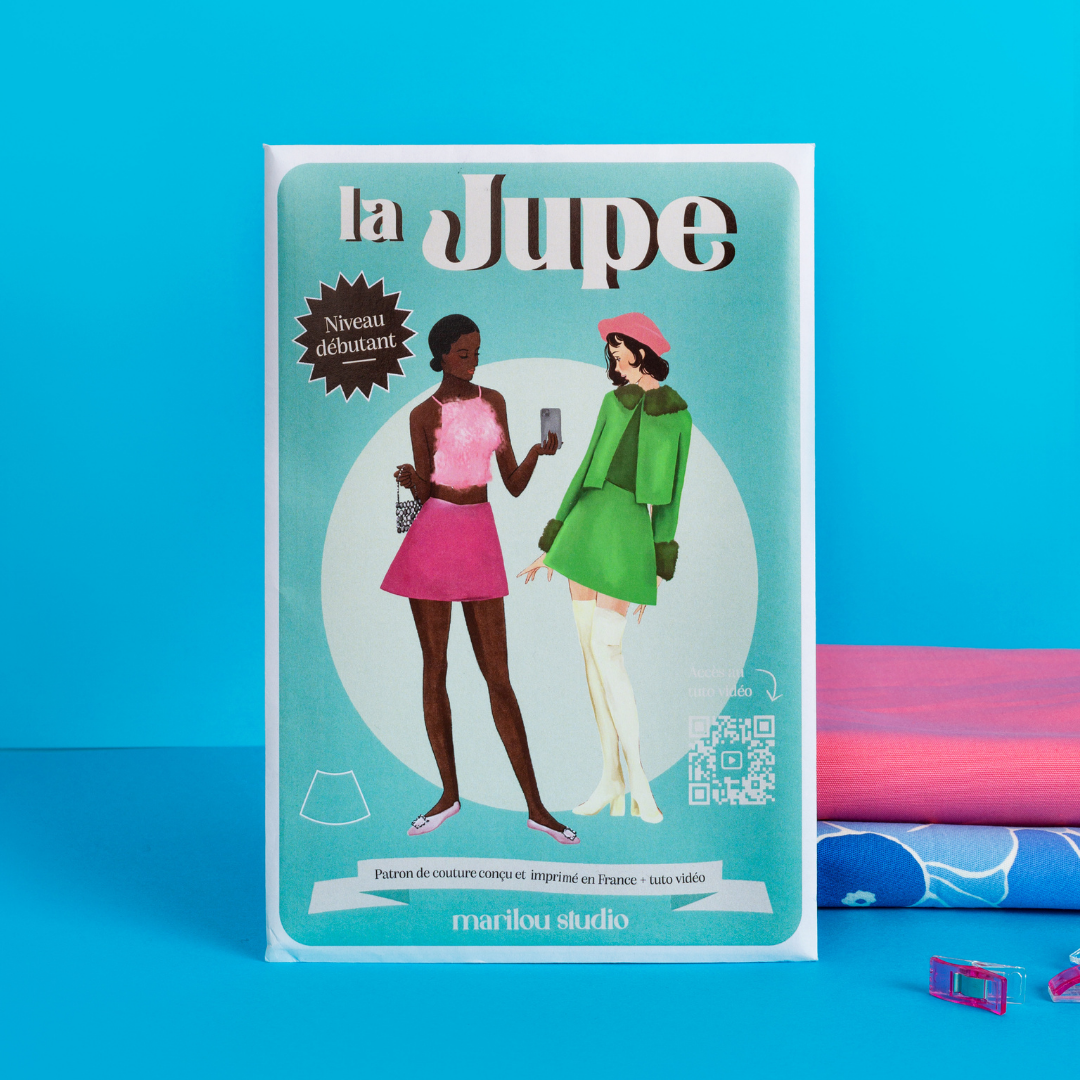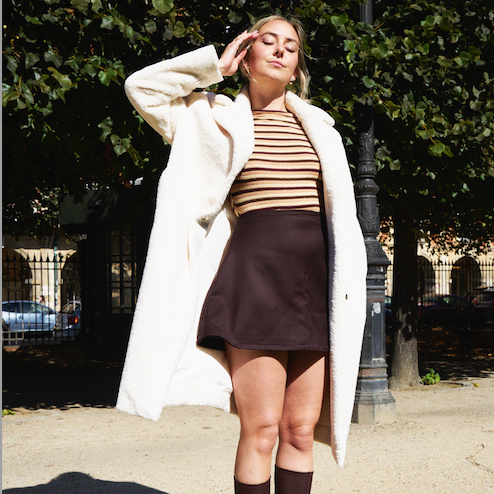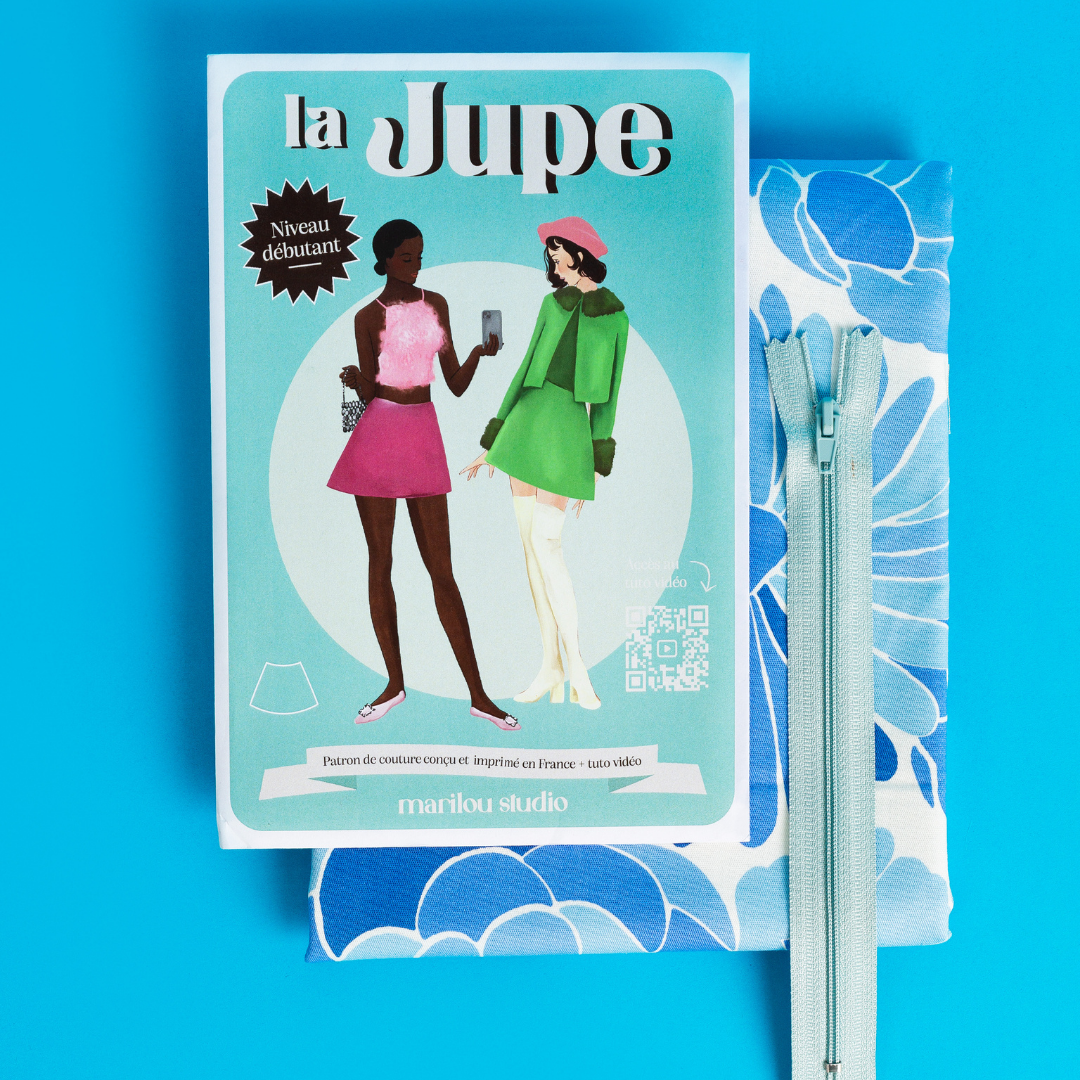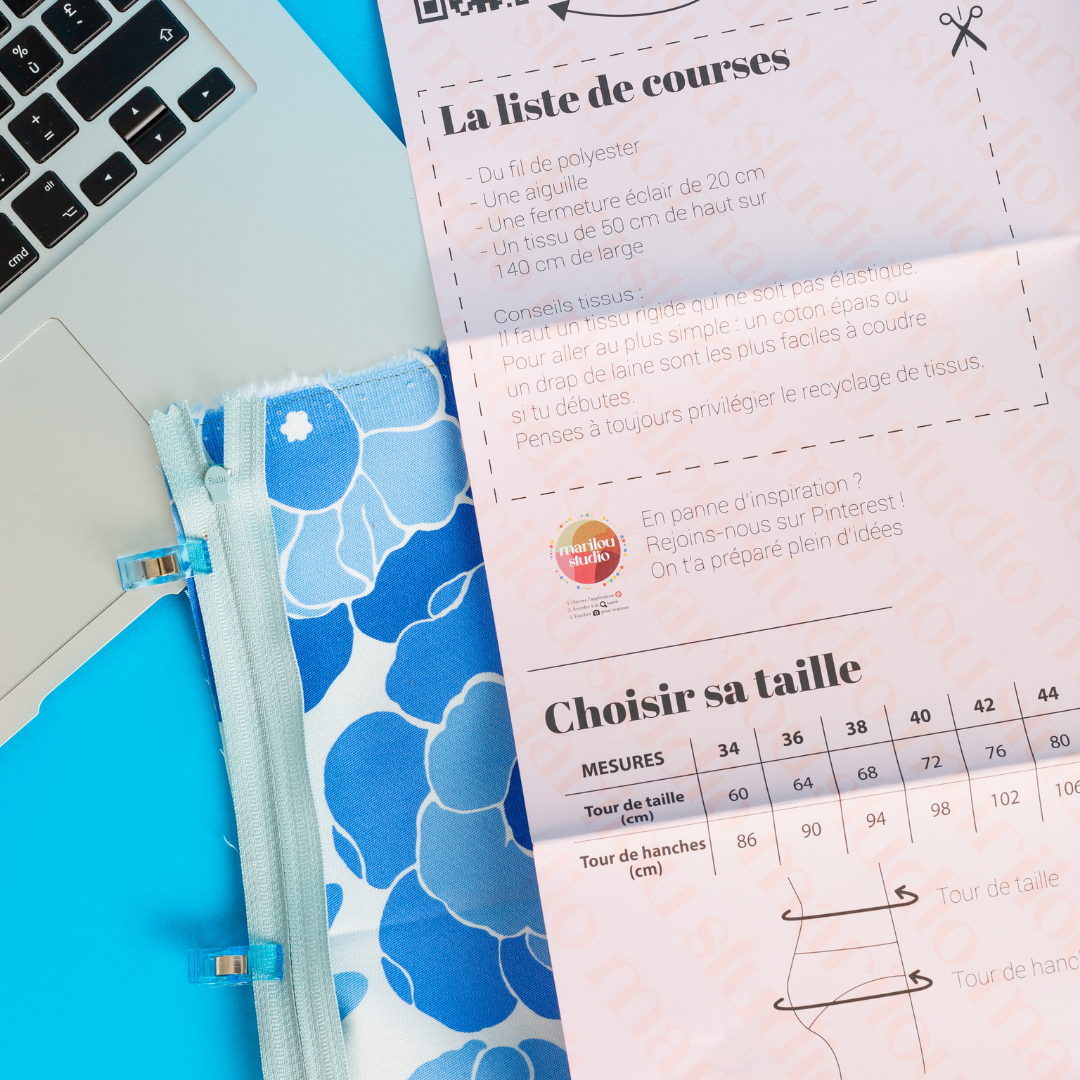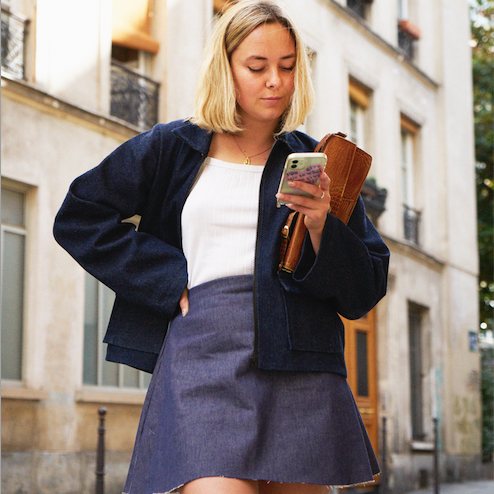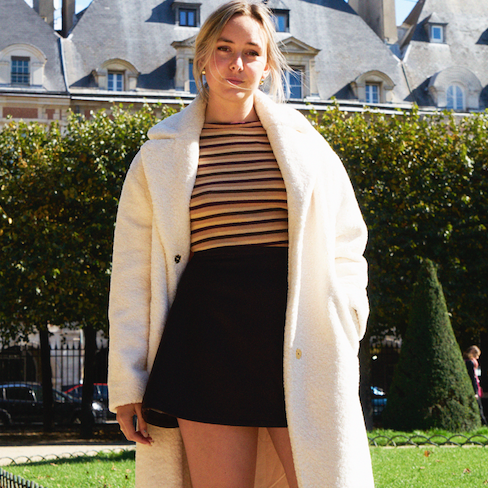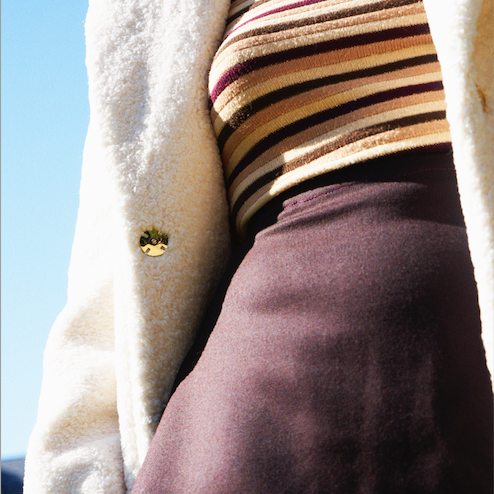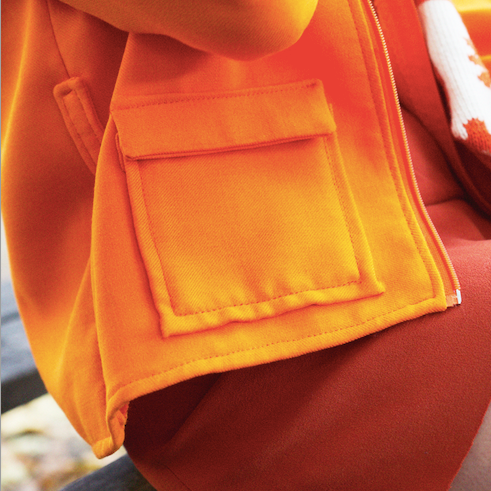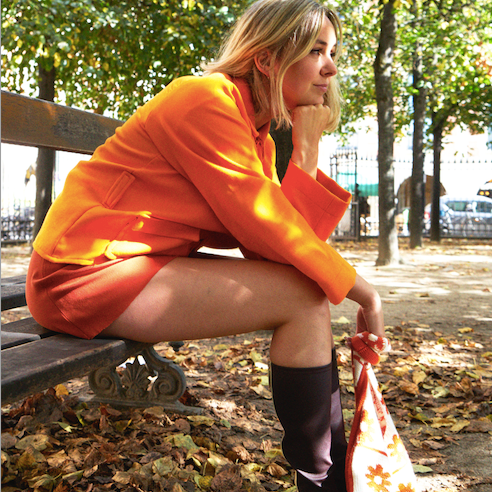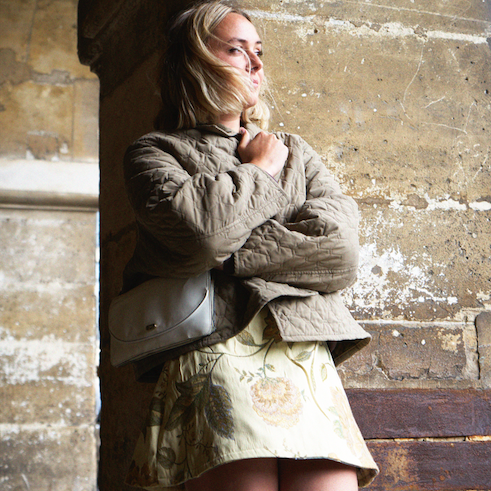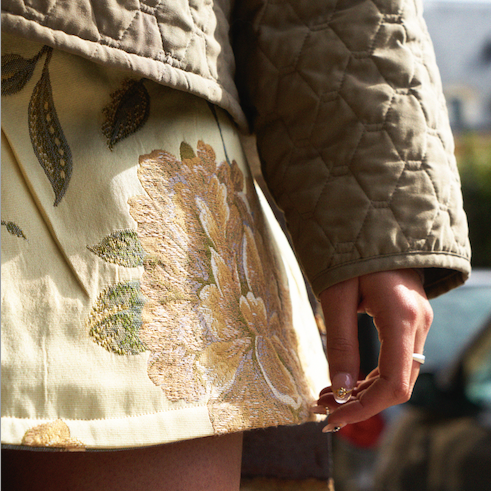 Detailed and easy to understand explanations

Benefit from all the information necessary to carry out your project successfully, accompanied by a video to help you understand each step.

An eco-responsible achievement

Sewing one's clothes makes it possible to limit transport, the exploitation of workers and overconsumption.

A unique garment

You can personalize your garment by choosing the colors, materials and finishes that you like the most, for a result that reflects your image and your taste.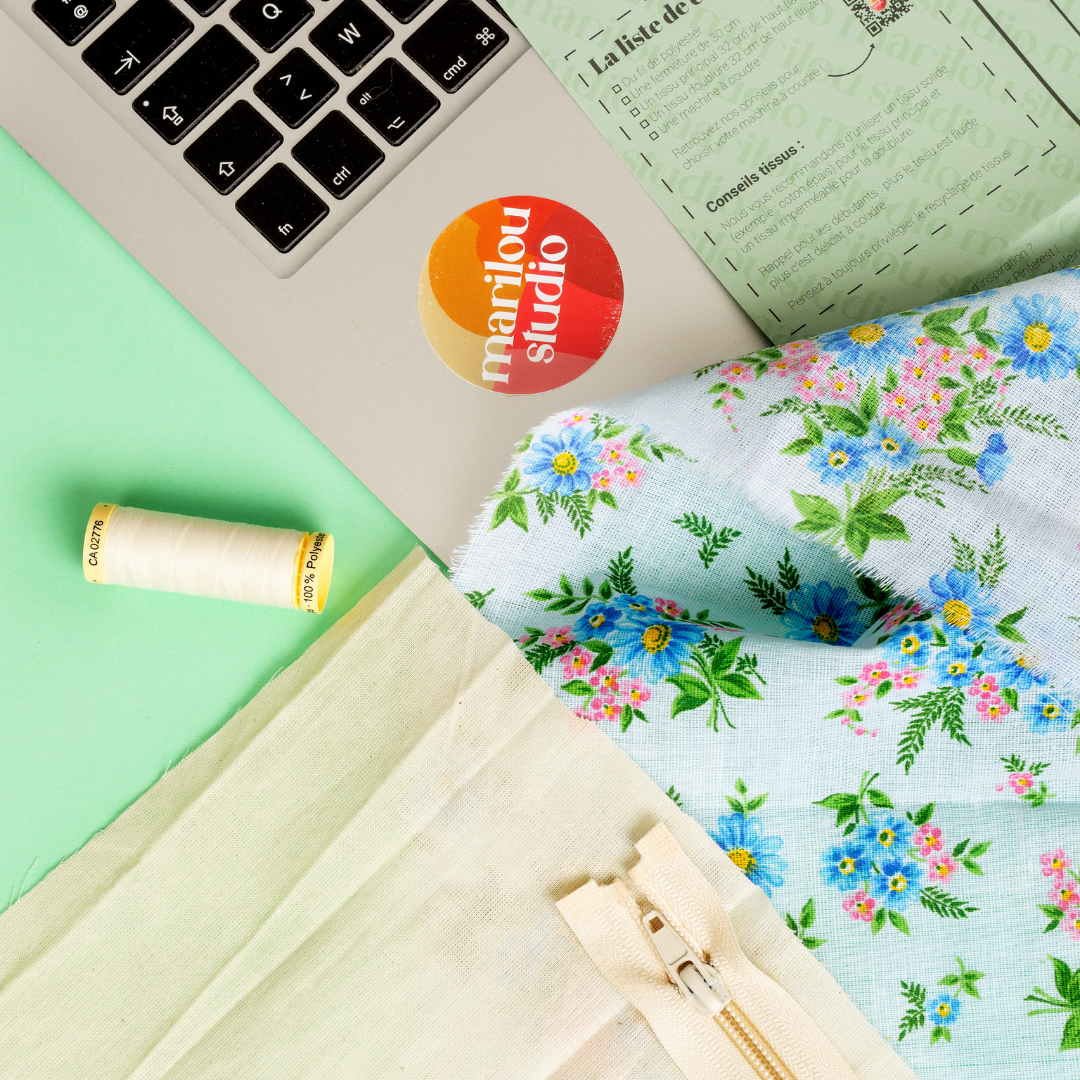 Simplifiez-vous la vie
Recevez directement chez vous tout le matériel pour réaliser votre pièce sereinement.
Commander
Parfait pour débuter
Cette jupe est super simple et rapide à réaliser. J'ai également acheté le tissu en pieds-de-poule ( au début j'ai trouvé le tissu un peu cher mais après je me suis demandée combien allait couter cette jupe dans le commerce et j'ai réalisé que ce n'était pas si cher que ça, je n'ai donc pas hésité et je l'ai acheté, je ne suis pas du tout déçu). C'était une de mes premières créations donc elle n'est évidemment pas parfait ( ma jupe était trop grande pour moi car j'étais entre deux tailles et j'ai préféré prendre au-dessus mais du coup j'ai "cassé" la forme de la jupe en la mettant à ma taille en y allant aux talents), mais j'en suis quand même très fière de moi.
Je recommande vivement cette marque pour les débutants et même pour les non débutants pour la qualité de l'explication, la simplicité, la beauté des modèles et des tissus proposés. On voit qu'il y a une vraie réflexion avant chaque création du patron, BRAVO
Simple et efficace
Tuto très bien réalisé. J'ai pris beaucoup de plaisir à faire la jupe
Jupe magnifique
Jupe trop belle ! Le patron est simple et les explications toujours aussi bien détaillées et ça donne un super résultat, elle me tombe parfaitement :)! Je recommande !
Simple et efficace
Hyper simple et rapide à réaliser ! Un must have à décliner de 100 façons
Premier patron
C'est le premier patron que j'ai acheté sur ce site et je n'ai pas été déçue, très simple de réalisation, je recommande vivement !
Merci beaucoup Juliette !
FAQs
What is a sewing pattern?

A sewing pattern is a pattern or blueprint for creating a garment or accessory.

It has detailed instructions on how to measure and cut the fabric, as well as how to stitch them together to achieve the final result.

Sewing patterns are used by seamstresses to make their own garment, using their own fabric and following the steps described in the pattern.
How are the patterns suitable for beginners?

Marilou Studio sewing patterns are beginner-friendly thanks to several factors.

1/ They are designed with a clear and simple vocabulary.

2/ The patterns come with a video tutorial that guides beginners step by step. This visual aid is very practical for beginners looking to understand the basic techniques.

3/ To answer all questions, a Facebook group is also available. Members can ask questions, share their creations and receive advice.

4/ Seam allowances are included in Marilou Studio sewing patterns. This means beginners don't have to measure and add those margins themselves.

5/ The patterns are created on paper that is easy to handle and cut.

6/ Each pattern is tested to guarantee its quality and simplicity for beginners.

In short, Marilou Studio has put everything in place so that beginners can learn to sew in the easiest and most enjoyable way possible.
How to choose the right size ?

In Marilou Studio sewing patterns, all sizes are on the same pattern.

A size guide is included with each pattern to make it easier for the beginning sewer to determine the right size.

This guide is accompanied by detailed illustrations that explain how to measure the different parts of the body to find the right size.

Once the measurements have been taken, simply cut out or trace the pattern on the line corresponding to the determined size to start sewing.
How do I use the sewing patterns once I have purchased them?

Just unfold it and scan the QR code to access the video tutorial that explains all the sewing steps step by step.

Each pattern includes a detachable shopping list to help you find the fabric and haberdashery needed to complete the project.

If you prefer, you can also order a ready-to-sew kit from the site, which includes all the materials needed to sew the pattern.
How to choose the right fabric for each project?

To help you choose the right type of fabric, each sewing pattern indicates the type of fabric to favor for the realization of the project.

The ready-to-sew kits are also designed to include the ideal material for each pattern.

Finally, a video is available to guide you in choosing your fabrics.
How can I get help if I have problems using the patterns?

If you have any problems using the Marilou Studio sewing patterns, you can receive help in several ways.

First, you can join our Facebook group where you can ask your questions and interact with other beginner sewers.

Additionally, you can email us at contact@mariloustudio.com to receive more personal assistance.

You can also contact us on our Instagram @mariloustudio where you can message us directly.
Is it possible to buy complete kits, including the patterns and the material needed to make them?

Yes, it is possible to buy complete kits at Marilou Studio.

These ready-to-sew kits include the sewing pattern as well as all the necessary materials for the realization of the project, such as buttons, zippers, etc.

The fabrics used in the kits come from dormant stocks and are cut to measure in our workshops, which guarantees impeccable quality.

With a ready-to-sew kit, you have everything you need to complete your project without having to worry about finding materials.
Can I return or exchange the patterns if I'm not satisfied with them?

We are confident in our product and offer a satisfaction guarantee for this pattern.

If you have any problems or questions, do not hesitate to contact us via contact@mariloustudio.com .

We are here to help you.